Have you ever thought about commissioning your own piece of jewellery, or remodelling your old jewellery into a new style? This is easier than you might think and here we explain the process.
Firstly, it's good to know what you would like and we highly recommend looking through our website or Facebook to get ideas. Don't worry if you can't decide; we can work with you to make sure you get the piece that's right for you and we have literally thousands of items in our shop to help inspire you.
It's often much easier to explain a design with imagery rather than verbally describing it, as what may be a high setting to you, for example, may be a lower setting for someone else. If you can't find an image, a little sketch will help immensely – and don't worry about your art skills! One of our designers is known for not being great at drawing!
We'll draw a rough sketch of what you describe to us to establish that we're on the same page and, once you're happy with this, we can estimate a price for you. We are often asked how much it costs to commission a bespoke piece of jewellery, and the truth is that we don't have a set price but we pride ourselves on being fair and competitively priced. The cost very much depends on the complexity of the design you choose, the work involved in making it, along with what size and quality of gemstones etc., but we can work with you to create something within your budget. If you're happy to proceed at this stage we take a deposit from you that goes towards the total cost of your item, and we move onto the next stage.
Before we can actually make your piece, we need to do some technical drawings and source any gemstones and materials that we need. These drawings are to scale and help us assess whether a design will actually work. With the likes of our bubble ring designs, we will sometimes ask you to come in and see our technical drawings before we proceed any further just to make sure it's how you pictured the design or, if we've done several technical drawings, it gives you the opportunity to choose your favourite.
Once we've agreed on a technical drawing (amongst our design team, or with you coming to approve it) we move onto CAD. CAD is hugely beneficial to the jewellery industry as it's a way for us to see a 3D model with colour and we can tinker with it to get it just right. Many pieces of jewellery that you see online are actually CAD images and not real pieces. We don't do this; we'd much rather show you the beauty of a real item, which is why we only use photographs on our social media and website. Once our design team has agreed that the CAD image looks right, we move onto the next stage, which is a stage that many people are surprised by!
Depending on the manufacturing process that we use, which depends on the item that we're making, we often 3D print a resin model of your piece based on the CAD image. This isn't always necessary but it allows us to see the scale of the piece, try the settings for size with gemstones and many other things. If we do build a model, we often ask our customers to come in and check it, as any last changes that are to be made are easier at this stage. We also think it's fun for you to be a part of the process – after all, this is for you!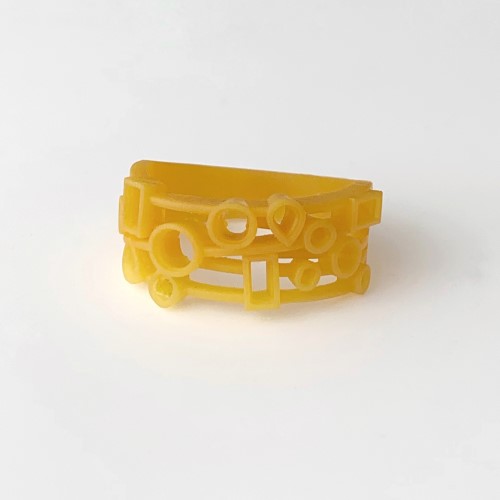 We then use the model, once approved, to cast the piece (if we're making a bangle, for example, we don't cast it; we use either sheet or wire and form it into the relevant shape and size). Casting from the resin model means that the metal casting will be exactly the same as the resin model. Once it's cast we tidy it up (precious metals look very different when freshly cast as to when they've been polished!), set the gemstones if we're using any, clean it, polish it, clean it again and finish it. It's then sent to the Assay Office for hallmarking when appropriate and, once all of this is complete (often with another final polish), we can present it to you, which is definitely our favourite part of the process, and we hope it's yours, too!
As you've read, there are many stages to creating a piece of jewellery and it can, therefore, take some time, so if you have something in mind for a special occasion we recommend you start thinking about your design as soon as possible. Our team of designers can help you create your perfect piece of jewellery – for yourself or for a gift – and we love breathing new life into older jewellery if you're looking to remodel something. The remodelling process is very similar to the bespoke service, but we use your jewellery and gemstones to create your new piece.
As always, we're here to help if you have any questions or you would like further information on commissioning a piece of jewellery, or remodeling your old jewellery. Feel free to contact us any time.
Our accompanying photographs feature a resin model and the final product. This ring was a remodel of our customer's old jewellery, and we thank her for both trusting us with her precious jewellery, and for allowing us to share it with you.