We're often asked about our impressive range of coloured gemstones and how we source them. Many of you will know that we attend gem shows all over the world to source gemstones directly from lapidaries (gemstone cutters) and we thought you would be interested in seeing a little of what these shows are like, by showing you snippets from one of them!
The world's largest gem show is held in Tucson, Arizona. This show is so large that it essentially takes over the whole city, with shows being held in marquees, conference halls and even hotel rooms, with the number of vendors stretching into the thousands. As you can imagine, security is incredibly tight and we have to provide all sorts of credentials in order to attend the high value shows. Once we've registered and booked in, we spend several days attending different shows and taking notes before we even buy anything, as it's very easy to be overwhelmed by the scale and excitement of it.
One thing that may surprise you is that we actually hand pick our stones. As you can see from the below pictures, we sort through thousands of opals to choose the ones that will eventually be set in our jewellery, and we do this with other gemstones, too. It's also fascinating to often speak to the very person who has cut the rough stone into a stunning gem and hear the story of how this was achieved.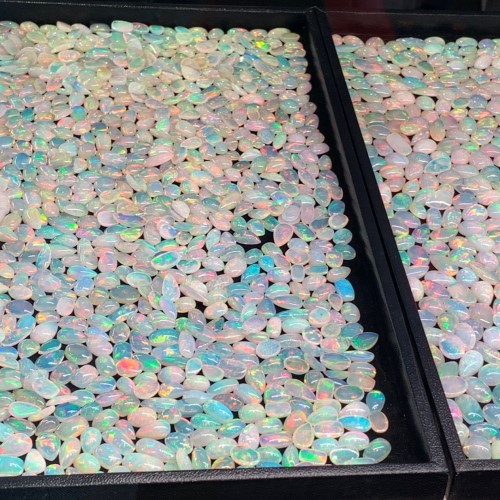 One of our favourite things about these shows is seeing incredible examples of beautiful stones, such as the enormous aquamarine pictured below. Obviously, stones this size are not suitable for setting into jewellery but, as gemstones are our passion, it's so exciting to see what wonders nature has to offer. This aquamarine weighs over 765ct, and the star sapphire is over 220ct - and these aren't the largest we've seen! The sheer scale of some of the gemstones available can actually alter the perception of the size of the stones, which is why we take our time and shop very carefully, while also discussing setting ideas, to make sure we purchase the best stones for our range.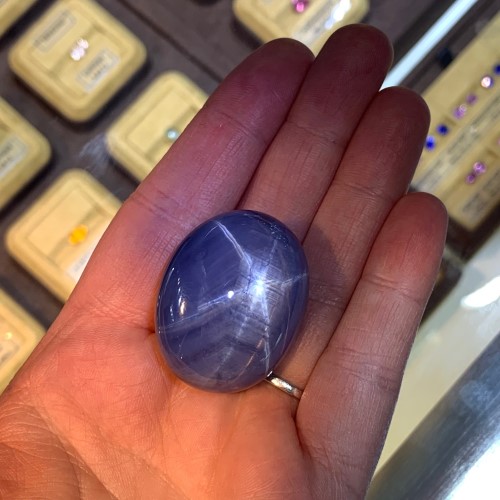 The photos below show some examples of the beautiful displays of gemstones. Some of these are designed to offer inspiration, and some are just for fun. Some vendors showcase loose gemstones on pedestals, too, to highlight how special they are.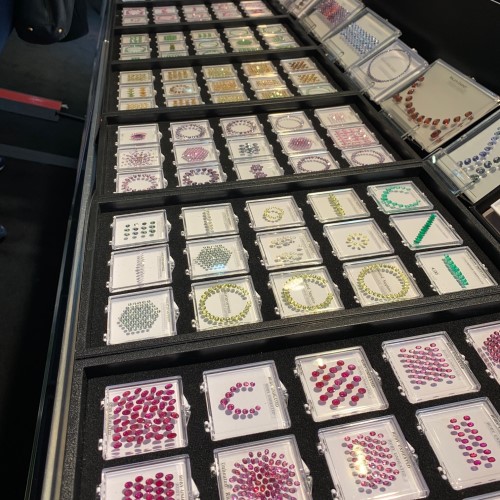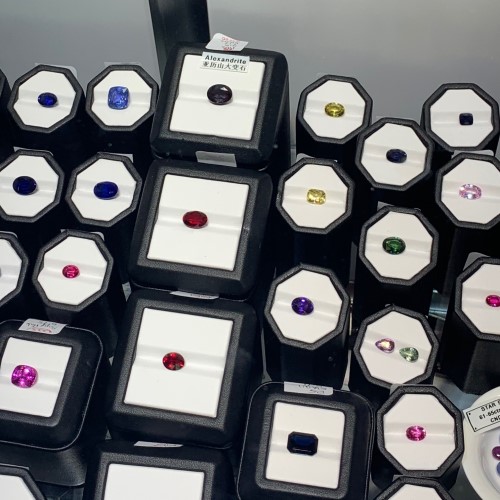 As mentioned, we spend several days at each show. A tannoy announces the end of the show, at which point cheers and applause erupt! Although amazing, it is a very tiring few days and the bars and restaurants across the city are usually fully booked at the end of each day with people unwinding. Many vendors and customers only see each other at these shows and have become friends over the years, so there is a real sense of camaraderie and, as people travel from all over the world to attend them, it's an opportunity to meet some truly fascinating people.
Back in Perth, our design process can begin, with us sitting down as a team and designing jewellery around the loose stones. We often come up with several designs for each stone and then whittle them down to decide on the final design. The design process is, as explained in a previous blog post, the most time-consuming part of our manufacturing process, but once we've completed it, we can get on with making the jewellery and displaying it in our showcases! This is, of course, our favourite part of the process. Showing you our unique jewellery featuring rare gemstones that you won't commonly find on the high street is very special and, thanks to a lot of welcome feedback over the years, we know that you appreciate it, too.